44110 Ashburn Shopping Plaza #174
Ashburn, VA 20147
Next to Hallmark

(703) 687-4020
Serving You Today Until 6:00 pm
| | |
| --- | --- |
| Monday | 10:00 am - 6:00 pm |
| Tuesday | 10:00 am - 6:00 pm |
| Wednesday | 10:00 am - 6:00 pm |
| Thursday | 10:00 am - 6:00 pm |
| Friday | 10:00 am - 6:00 pm |
| Saturday | 10:00 am - 6:00 pm |
| Sunday | 12:00 pm - 5:00 pm |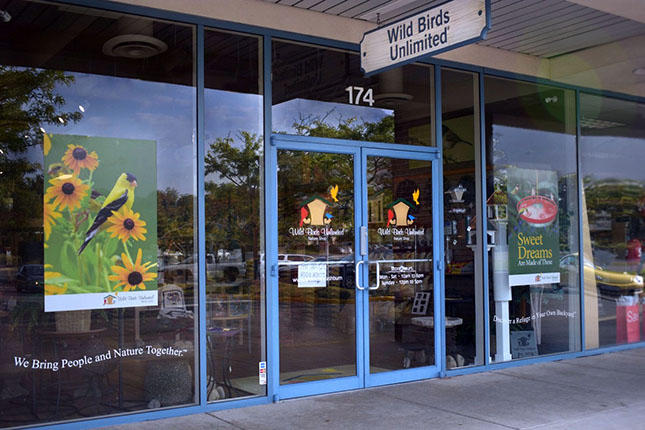 Charles and Sherri Bartlett Franchise Store Owners
View Our Store Site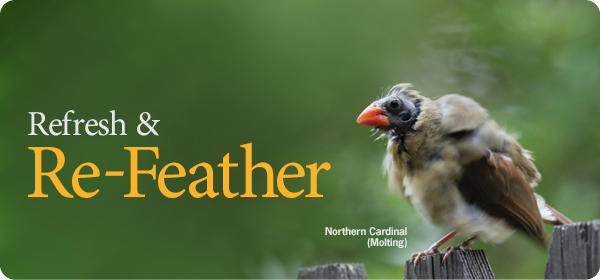 Fabulous Feathers – Time for a Change
A quick quiz: What is a feather made of?
And it is not, "Snips and snails, and puppy dogs' tails." But it is made from the same thing as a little boy's hair…protein! Over 90% of a feather, or a hair, is made up of a tough protein called keratin. In fact, a bird's feathers contain over 25% of the total protein found within its entire body. Who knew?
A little longer quiz: How often do birds grow new feathers?
Not as easy to answer…it can vary depending on the bird species.
All birds grow an entire body full of new feathers as youngsters in the nest. It is the only time in a bird's life that it will grow all of its feathers at one time. It boggles the mind to think that a chickadee can grow all of its feathers and be ready to leave its nest in as little as 11 days!
Feathers are amazingly tough…but they do wear out and need to be replaced. Most adult song birds will molt (shed) and replace their feathers once a year, usually after their nesting duties are completed. A majority of backyard feeder birds perform this annual molt from July-September, but some, like Downy Woodpeckers and Eastern Bluebirds continue well into October. Having a strong set of fresh new feathers is of tremendous benefit to birds that are facing the rigors of migration or the struggles of surviving a long, cold winter.
Come nesting season, some of our backyard birds exchange just a portion of their feathers for more colorful breeding plumage. While American Goldfinches do molt and replace all their feathers (body, wings and tail) each autumn, come spring, they molt only their body feathers to transform into their showy yellow courtship attire.
Whatever the reason for growing new feathers, it comes at a high price. The demand for energy and nutrition during this process is through the roof, and large amounts of protein and fat are essential for being able to create strong and colorful feathers.
Look around your yard today. Nesting is still going strong for some birds, while other adults are starting to take on that "shaggy" look that signals the start of their annual molt. Young birds that recently left their nest are also busy growing more "adult-like" feathers to replace their less efficient juvenile plumage.
Stop by your Ashburn Wild Birds Unlimited store to learn more!
-----------------------------------------------------------------------------------------------------------------------------------------------------------------

Refresh and Re-Feather
It's that time of year, the birds are putting on a brand-new coat to get ready for migration or winter. In this episode, you'll learn all about the different kinds of feathers, what they do, what they're for, and how to ID them. John and Brian are sharing all their fun feather facts with you!
Click here to listen to this episode.
2021 UNKNOWN BIRD ILLNESS/BIRD MORTALITY EVENT
UPDATE 7/28/21
The Virginia Department of Wildlife Resources (Virginia DWR) has issued an update. The number of birds being reported has decreased significantly over the last month. This is definitely good news! No cause has been determined yet but as mentioned below, they are continuing to explore all avenues including toxicology. Here is the latest directly from the Virginia DWR statement (click on the link at the bottom to see the entire report):
Since early June, reports of dead or sick birds from the affected areas submitted via DWR's online form have decreased by 50%. Reports of dead or sick birds submitted to the Animal Rescue League of Arlington (ARLA) have also dropped from an average of 17 reports per day in early June to 1.5 reports per day in July. In the last two weeks, cooperating wildlife rehabilitation veterinarians in the affected area and ARLA staff have only reported a total of two observations of affected birds.
DWR is working with the various wildlife health labs involved in this investigation, as well as the other states involved in this mortality event. Diagnostic investigations of this nature can be prolonged, due to the wide range of testing possibilities, and because of this no definitive cause(s) of illness or death have been determined at this time. Experts are utilizing all possible diagnostic avenues including toxicology (herbicides, pesticides, etc.), viral, bacterial, and parasitology.
DWR continues to recommend that people discontinue bird feeding in the affected areas until further notice. For the remainder of the state, DWR advises removing bird feeders any time multiple dead birds are observed on a property over a short period of time. Feeders and bird baths should be disinfected with a 10% bleach solution (one part bleach mixed with nine parts water), rinsed with water, and allowed to air dry. Generally, for the health of wild birds, it is a good practice to disinfect bird feeders and baths at least every two weeks.
If you encounter sick or dead birds, in Virginia, please submit an event report at: http://dwr.virginia.gov/.../bird-mortality-reporting-form/
For additional information on this mortality event, please visit here.
UPDATE 7/13/21
There has been no official update since our last post. However, we have had very few reports to our store of birds having neurological issues and crusty eyes in our area in the last week or two. We are hearing through several sources that the number of birds being reported to other agencies in our areas has also greatly reduced. This is good news. We will continue to post any new/updated information here on our website.
At Wild Birds Unlimited we want to be part of the solution. The health and well-being of birds is our number one priority! As with past bird diseases or infections, we believe that a caring, observant public, which our WBU customers most definitely are, actually helps provide valuable information in the effort to help save the song birds in these situations.
The key is to ALWAYS be a responsible bird bird-feeding hobbyist. Keep your bird feeders and bird baths clean! Please refer to our recommendations for Responsible Bird Feeding here.
UPDATE 7/3/21
The USGS has issued an update stating again that no definitive cause has yet been determined. Other states (Kentucky, New Jersey, Illinois, Ohio) have had reports of the illness but no numbers were given. They have ruled out several known pathogens including "Salmonella and Chlamydia (bacterial pathogens); avian influenza virus; West Nile virus and other flaviviruses; Newcastle disease virus and other paramyxoviruses; herpesviruses and poxviruses; and Trichomonas parasites. Transmission electron microscopy and additional diagnostic tests, including microbiology, virology, parasitology and toxicology, are ongoing."
Unfortunately, the update did not share important information we would like to know such as:
How many birds overall have been affected?
How many birds in each local community, county, and state have been affected?
Have the numbers decreased or increased since the initial findings?
We have heard of very few reports of the illness in our area and therefore can only speculate that the event has started to subside. If you do see any sign of sick birds in your yards, cease bird feeding for a couple of weeks, clean and sanitize all feeders with a bleach solution (10:1 water to bleach), rinse and let dry.
We will continue to monitor the situation and update our website as needed. It is certainly our hope that the numbers decline and that a cause is determined.
Unknown Bird Illness - Special Statement 6/17/21
Dear Friends,
As you might have heard in the news, there have recently been several cases of reported bird deaths as a result of a mysterious disease, virus, parasite, poison/pesticide, environmental factor or other unknown cause. Wildlife officials are unsure of the cause that is affecting birds in this multi-state area (parts of Northern Virginia, DC, Maryland, West Virginia) and are actively looking for answers. It is not known if it is contagious or caused by something environmental.
What we know so far:
The birds reported have mostly been Blue Jays, European Starlings, American Robins and Common Grackles and are most often fledglings.
Symptoms include swollen, crusty eyes and balance/neurological issues.
Lab results have not been conclusive yet.
Report any birds exhibiting these symptoms to the Virginia Department of Wildlife Resources at: https://dwr.virginia.gov/wildlife/diseases/bird-mortality-reporting-form/
Because there are several unknowns, state officials have recommended that bird feeders and bird baths be taken down until the cause has been determined. This is to reduce the number of birds congregating in one area, just in case there is something causing the illness that could be contagious.
We are hoping that the authorities will take other steps to ensure the safety of the birds while the cause is being determined. Reducing or eliminating wide-spread pesticide use is one suggestion in particular that we think is vitally important.
There is speculation that this illness might be related to the Brood X cicada emergence in some way. The timing and geographical location of these occurrences makes this an interesting idea but nothing has been concluded yet and this is just speculation.
The key ALWAYS is to be a responsible bird feeding hobbyist. Keep your bird feeders and bird baths clean! Please refer to our recommendations here. For the time being, consider using hummingbird feeders, finch feeders or suet feeders (the birds that use these feeders have not been affected) and enjoy walks or visits to local parks where you can enjoy birds in their natural setting.
The health and well-being of our birds is our number one priority! We know that under normal circumstances, feeding the birds can have a tremendously positive effect on them when done responsibly. Feel free to stop by our store or call us with any questions. We appreciate your support as always! #savethesongbirds
- Sherri and Charles Bartlett, owners
---